The technology sector rules world business. Gulf Brokers updated its review of the world's richest people investing in technologies. Since first publishing the list, based on data from Forbes Real Time Billionaires, in April 2021 there is another billionaire among the world's 10 richest people. It is Steve Ballmer moving from 14th to the 10th place in the Forbes ranking as of October 29, 2021. The trend of accelerating technologies is thus confirmed even in month-on-month movements in the billionaires' wealth.
While five years ago, only six of the world's twenty richest people were in technology, today they are a third higher. And they are positioned at the very top of the billionaire rankings.
The order of the richest people on the planet has changed quite significantly in a relatively short time. At the beginning of the last decade we may have thought that Bill Gates' position as the wealthiest man on Earth was unshakable. Last years, however, have seen a significant change, which has even been accelerating last months.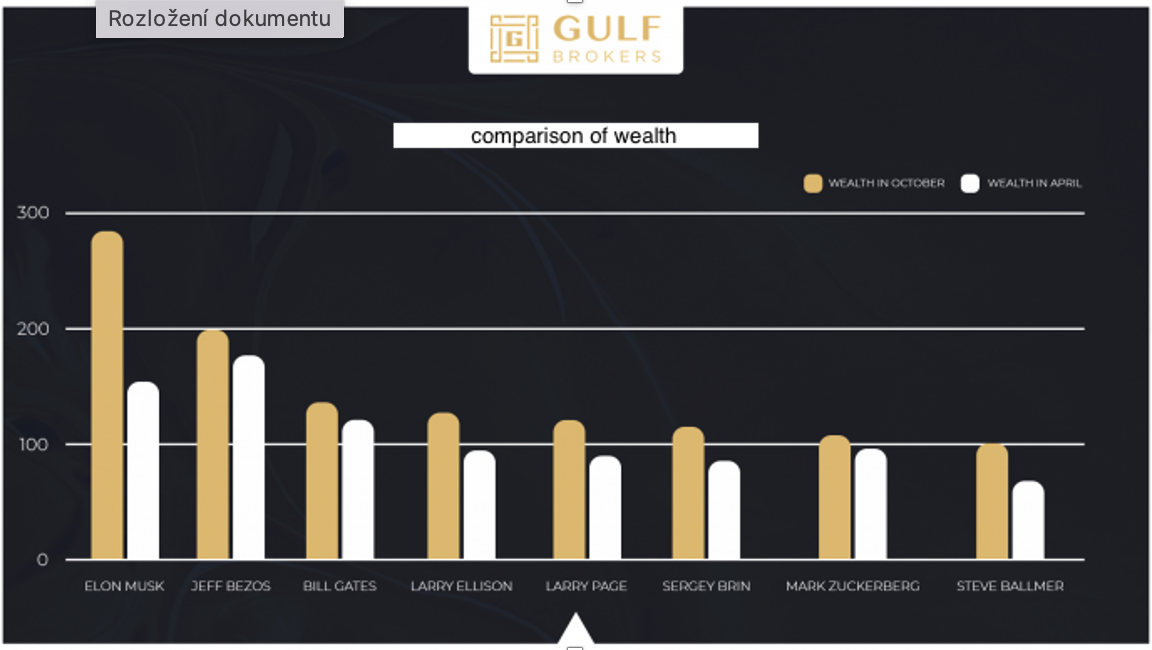 This spring, the number of technology billionaires in the top twenty has grown to nine, with seven of them among the top ten. The ranking was dominated by Jeff Bezos. However, several changes took place over the next six months. The most important is the rotation on the billionaire throne. Bezos was deposed by Elon Musk, whose fortune is nearly $284 billion, according to Forbes. Bezos lags behind him by more than 84 billion. In April, however, Amazon's owner had a $26 billion lead over Tesla's founder.
Another visible change is the reduction in the number of technological riches in the top twenty by the Chinese Ma Huateng, who dropped to 30th place at the end of October. However, the technology giants have not disappeared and have moved even further up. All the remaining eight of the top twenty have moved into the top 10. Only the fashion icon Bernard Arnault and investment strategist Warren Buffet "spoil" the hegemony of the technology sector.
Trading is risky and your entire investment may be at risk. TC's available at https://gulfbrokers.com/
Contact: Gulf Brokers Syam KP, Chief Analyst support@gulfbrokers.com