Snapchat was the first to introduce the visionary "story" feature, which today is embedded and prevalent in the most popular social media apps, adopted by Facebook, Instagram, WhatsApp, Twitter and even Google. While the platform retains worldwide popularity & exhibits consistent growth, its stock (NYSE: SNAP) has crumbled nearly 70% since the start of the year.
What storm hit Snapchat? Is it risky to invest in the business?
From Zero to Hero
In 2013, Snapchat introduced two new features; Stories and Chat. These tools enabled users to post a series of snaps which remain active for 24 hours. The chat function provided users the function of messaging their friends, aiding Snapchat in climbing the social media ladder. The next year was a busy one, as the ghost-themed business created "Geofilters" and rolled out Snapcash. One feature after another witnessed the rise of Snapchat to 75 million monthly users by 2015, with advertisements generating a significant revenue stream for the company.
Snapchat went public in 2017, closing their first day of trading up 44% at $24.48 a share. From zero to hero, and again to zero, Snapchat's stock price today is worth a little over $14, marking a sharp drop of nearly 75% in 2022. What happened to the innovative Snapchat?
The Fall of Snapchat
Since the start of 2022, the visionary social media chief witnessed its worst half-year yet. Several factors contributed to the collapse of Snapchat's market value:
This factor likely influenced Snapchat's downfall the most. Apple recently rolled out the App Tracking Transparency (ATT) privacy update on iOS devices, giving users the choice to opt out of allowing apps to track their movement across mobile apps and other websites. This made it difficult to target users with user-oriented ads, which deteriorated Snapchat's revenue generation as advertisers were clueless regarding who views their ads and how campaigns are performing.
The rapid & steep rise of prices across the globe has dampened consumer demand for the majority of goods and services. As a response, central banks have hiked interest rates like no tomorrow, hammering stock markets and gearing investors & traders gearing towards safe havens instead of riskier assets.
Geopolitical instability induced by Russia's invasion on Ukraine has weighed down on global markets, and the U.S. stock market, home of Snapchat's stock, is no exception. The conundrums between the two nations have spurred to other countries, with EU & US-led sanctions on Russian resources rocketed energy prices like oil & gas.
Recent Performance
Despite contemporary debacles, it's safe to say that Snapchat is growing on a fundamental level, which unfortunately isn't being reflected in its stock price-tag as it does with rival stocks. Yet, in the first quarter of the current fiscal year, the company fell short of Wall Street expectations in key metrics which measure performance:
Revenue: $1.06 billion against $1.07 billion forecast
Earnings per share: Loss of 2 cents versus earnings of 1 cent predicted
Average Revenue per User (ARPU): $3.20 against $3.25 expected
Looking through rose-colored glasses, global daily active users (DAUs) were 332 million versus the 330 million predicted by analysts, marking an 18% year-over-year growth. But it was a predominantly bad quarter for the social media pioneer. Snapchat CEO Evan Spiegel, once a founder, said in a prepared statement that the "first quarter of 2022 proved more challenging than we (Snapchat) had expected", blaming mounting macroeconomic conditions, escalating inflation, supply chain disruptions, labor shortages and soaring interest rates.
Technical View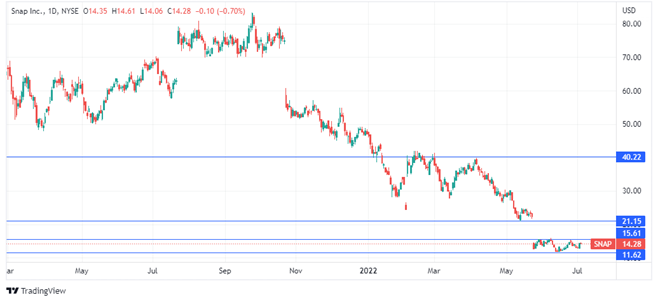 Viewing the Snapchat stock (NYSE: SNAP) from a technical lens, the upward-trending ride has come to an end towards late 2021. The near year-long plummet of the stock has been vicious, disintegrating the firm's value to rock-bottom. Currently priced at $14.28 apiece, the stock is trading by 52-week lows between a support level by $11, and three resistance levels; one lies slightly above $15, another near $21 and a higher one at $40.
The Snapchat stock isn't looking too attractive at the moment. Regardless, analysts of various renowned financial institutions expect that the stock's future is bright, with an average consensus analyst estimate of $31.11; a 118% upside from today's valuation.
Time to Shine
Snapchat is on the road of greater things. The world's 702nd most valuable company is set to climb up the ranks once again, as it officially introduced its paid monthly subscription plan of $3.99 a month, coined as "Snapchat+". Launched in nine counties including the United States, France and Saudi Arabia, the paid subscription service unlocks exclusive & pre-release features, such as customizing the app's icon and pinning a close friend as a BFF (best friend forever).
The move isn't original, but instead followed suit as other social media giants including Twitter & Telegram also launched premium services intended to attract passionate users. Launching Snapchat+ has the potential of bolstering the company's revenue. Hand-in-hand with the imminent growth of digital ads in the future, this can open doors for Snapchat once again.
Written by Syam KP, Financial analyst of Gulfbrokers
Trading is risky and your entire investment may be at risk. TC's available at https://gulfbrokers.com/