Thailand's markets have been boosted by almost $4 billion of foreign inflows this month as the central bank held off from interest-rate cuts, helping support bonds and the currency. But even the Bank of Thailand has voiced concern over the baht's strength and said it has intervened in the market, while economic growth prospects are worsening.
"Foreign funds are using equities and bonds as tools to speculate on the baht's strength," said Pornthep Jubandhu, head of the investment research group at SCB Asset Management Co., the nation's biggest private money manager with $45 billion of assets. "This rally could be short-lived as fundamentals are very weak with the poor economic outlook, trade dispute and domestic politics."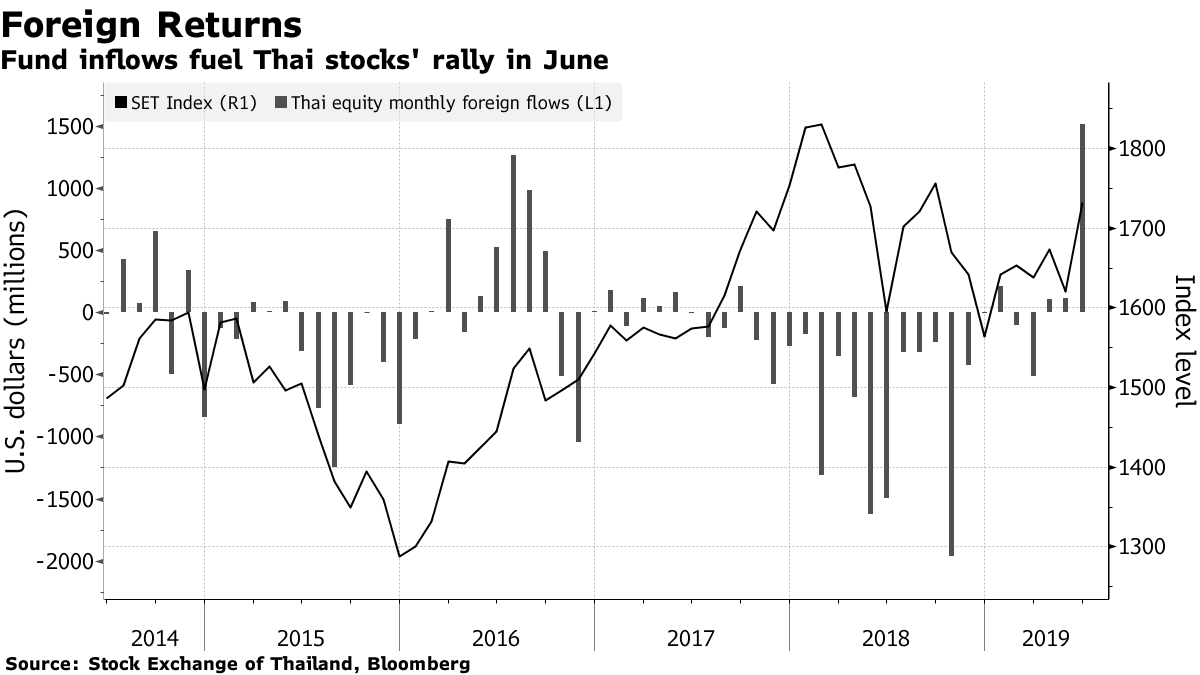 Source: Stock Exchange of Thailand, Bloomberg
The Bank of Thailand this week lowered its growth forecast as the U.S.-China trade war hurt exports. Domestic political risk is also rising with the ruling coalition holding just a tenuous majority in the House of Representatives, and the opposition alliance set to fight what it sees as continued military control.
"There is little logic about the gain in domestic equities, currency and some other assets," said Kavee Chukitkasem, deputy managing director at Kasikorn Securities Pcl. in Bangkok. "The economy is so weak with sluggish consumption, investment, exports and tourism. "
Meanwhile, the "slim parliamentary majority will probably be the key risk to political stability," he said.
Source:
Bloomberg