Tesla stock has been on fire. Shares are up more than 190% from 2019 lows, leaving investors to wonder what's next for the electric-vehicle pioneer. The stock doubled since Oct. 23, the day before it jumped more than 17% on an earnings-fueled gap up. On Thursday, $TSLA hit a record close of $572.20, pushing the company's market cap north of $100 billion milestone. The main achievement is TESLA sold 367,500 cars in total in 2019 — more than it sold in 2018 and 2017 together.
Fundamental Overview
The earnings report, which is expected to be released on January 29, 2020, might help the stock move higher if these key numbers are better than expectations. On the other hand, the stock may move lower, if the company fails to live up to expectations.  According to the Wall Street Fact Set, is revenue of $6.45 billion, down 4% from the year-ago period but up 10% from the third quarter! The consensus on adjusted earnings is $1.65 per share, down 15%.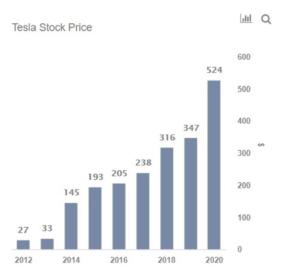 Tesla stock debuted at less than $20 a share in 2010. It hit $200 in 2014. And now, after strong deliveries in the fourth quarter and the successful launch of a new factory in China, it's above $500 — giving the company the highest valuation of any U.S. carmaker ever.
Shares of TESLA, which have been doubled since October, when it reported a surprise quarterly profit.
Technical Overview
$TSLA continues to forge higher but last few days the stock shows some weakness in the upside run. The price closed on Friday little lower after stock market plunged concerns of new virus uncertainty. As we know there are a lot of traders shorting this stock from last few days because of RSI Overbought & the price close to the 3rd Resistance pivot on the daily.
According to Gulf Brokers, in short-term If the earnings go well the share will shoot up to 600$. Otherwise, it will face the next pullback to $500.