About Tencent Holdings
Tencent Holdings, often simply referred to as Tencent, is a Chinese multinational conglomerate and one of the world's largest technology companies. Founded in 1998 by Ma Huateng (also known as Pony Ma), it is headquartered in Shenzhen, China. Tencent's primary business operations span various sectors of the technology and entertainment industries, making it one of the most influential and diversified companies globally. Their market capitalisation is more than 370 billion USD. (2,90 trillion HKD)
As mentioned, they own many companies, in multiple sectors. Some of these are:
1. Social Media and Messaging: Tencent is widely recognized for its instant messaging app, WeChat (known as Weixin in China), which boasts over a billion monthly active users. WeChat has evolved into an ecosystem of its own, offering services beyond traditional messaging, such as payments, e-commerce, and more.
2. Gaming: Tencent is a major player in the global gaming industry. It owns Riot Games (League of Legends), Supercell (Clash of Clans), and has a significant stake in Epic Games (Fortnite).
3. Technology and Cloud Services: Tencent Cloud, the cloud computing arm of Tencent, provides a wide range of cloud services, including AI, big data, and internet security solutions. It competes with giants like Amazon Web Services (AWS) and Alibaba Cloud.
4. Entertainment and Media: Tencent Pictures is the company's film and television production unit. It has co-financed and distributed numerous blockbuster films. Tencent Video is one of China's leading streaming platforms, offering a vast library of licensed and original content.
5. Financial Services: Tencent's fintech arm includes WeChat Pay and Tenpay, which are among China's most popular mobile payment platforms. Additionally, Tencent owns a stake in China's largest digital bank, WeBank.
6. Artificial Intelligence (AI): Tencent is investing heavily in AI research and development, with applications in areas like gaming, autonomous driving, and natural language processing.
7. E-commerce: Tencent has stakes in several e-commerce companies, including JD.com, one of China's leading online retailers.
8. Music: Tencent Music Entertainment Group operates some of China's largest music streaming platforms.
9. Healthcare: Tencent has entered the healthcare sector with initiatives like Tencent Trusted Doctors, an online medical consultation platform.
10. Smart Technology: Tencent is involved in the development of smart technologies, including IoT (Internet of Things) and smart cities.
Debuting large language AI
Tencent Holdings announced the official launch of its large language artificial intelligence (AI) model, "Hunyuan," marking a significant development in the ongoing competition among tech companies striving to lead China's AI sector. Tencent presented Hunyuan at a conference in Shenzhen, highlighting its role as the backbone of over 50 Tencent products and services. Jiang Jie, Tencent's vice president, noted that China had already witnessed the emergence of more than 130 large language models by July, signalling the onset of intense competition.
Hunyuan stands out with its impressive features, boasting over 100 billion parameters and training with more than 2 trillion tokens, benchmarks used to gauge AI model capabilities. Tencent's model, proficient in both Chinese and English, demonstrated strengths in areas like producing lengthy texts and solving certain mathematical problems compared to OpenAI's ChatGPT, while also exhibiting 30% less "hallucination" than Meta Platform Inc's Llama 2, where "hallucination" refers to instances when AI models generate inaccurate information but present it as factual.
Stock development
In the last five years, stocks have seen an increase in their value by more than 100%, as in the beginning of 2021 price for a stock reached 90 USD.* However, after that a major correction followed, which caused stocks to fall by more than 50%.* Currently, the price is just below the 40 USD mark, at 39,47 USD.* It seems also that the value is on a support level, which means that the next few trading days will be crucial to see in which direction stocks might continue.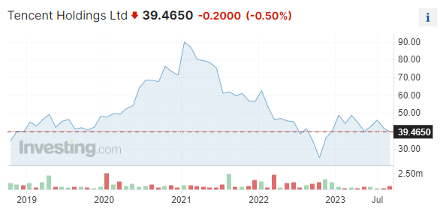 Movement of Tencent Holdings stocks in the last five years. (Source: Investing) *
Conclusion
We believe that despite the poor performance of their stocks, Tencent Holdings is for sure a company to follow and keep an eye on. They have very good diversification of their business, as they are present in almost every sector possible – when talking about technology of course. There is also news, that one of their companies, Tuhu Car, is aiming for a 160 million USD IPO in Hong Kong, which just adds another sector and another possible positive thing for the company. Our prediction for their stocks is rather positive.
Syam KP, Analyst of Gulfbrokers
* Past performance is no guarantee of future results.