Ride-hailing giants Lyft and Uber reported fourth-quarter financial results this week. Even though 2020 was a brutal year for both the companies, the Uber (NYSE: UBER) and Lyft (NASDAQ: LYFT) shares have rallied more than 80% over the last six months.
Lyft reported better-than-expected Q4 earnings and revenue on Tuesday after market close. While the company revenue fell 44% compared to a year ago in the fourth quarter, to $570 million.
Earnings per share (EPS) -$.58 vs. -$.72 expected

Revenue $570 million vs. $ 563 million expected
Lyft reported active riders in the quarter of 12.55 million versus a predicted 13.2 million but up from 12.5 million and 8.7 million in the preceding two quarters. For full-year fiscal 2020, Lyft reported revenue of $2.4 billion versus $3.6 billion in 2019, with a net loss of $1.8 billion, down from 2019's $2.6 billion net loss.
"Even as we've strengthened our financial position, we've continued to fund strategic investments that build on our core competencies and on our marketplace flywheel, to lower costs and deliver more value to drivers, riders and partners," Lyft CEO, Logan Green said.

On Wednesday, Lyft stock rose more than 10% in pre-market trading and reached a fresh all-time high of $59.40.
Uber announced its Q4 2020 financial results after the closing bell on Wednesday. The company beat Wall Street's expectations on earnings but missed on revenue expectations.
Earnings per share (EPS) -$.54 vs. -$.56 expected

Revenue $3.17 billion vs. $3.58 billion expected
"While the external environment remains uncertain, I am more optimistic than ever about Uber's future," CEO Dara Khosrowshahi said.
The company's ride-hailing service brought in revenue of $1.48 billion in the quarter, a 52% drop from the prior year. Meanwhile, revenue in Uber's food-delivery service more than tripled from the previous year to $1.37 billion.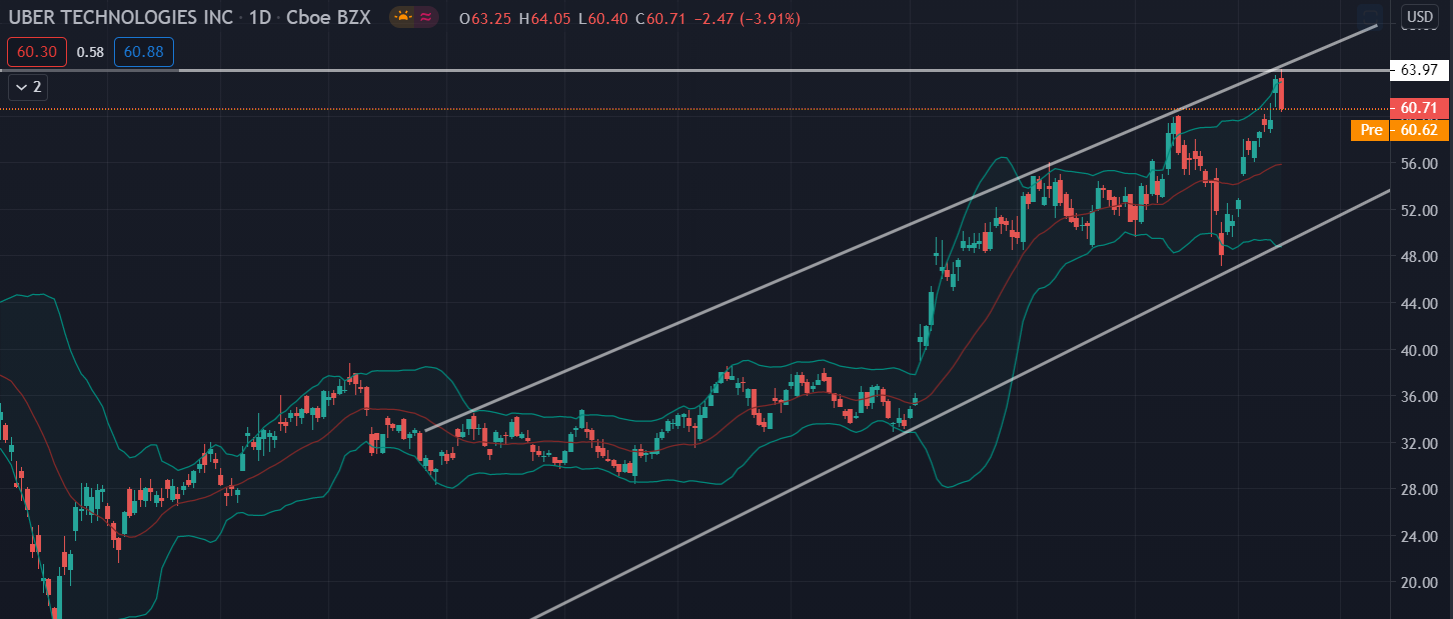 Uber stock was up more than 6% and hit a new 52-week high during the market hours on Wednesday but it gave back most of that gain after the company reported mixed Q4 results.