This is the story of Facebook, the world's most used social media network with over 2.93 billion monthly active users. The website which was created in a college dorm room by Mark Zuckerberg has evolved into the world's 8th largest company by market capitalization, currently worth more than $560 billion, with its founder's net worth amounting to $72.9 billion today.
Focused on the emerging metaverse and future technologies, Facebook, which took over Instagram, WhatsApp, Oculus and even GIPHY, has changed its name to Meta Platforms in late 2021 as a nod to the immersive next-generation virtual reality technology known as the metaverse. While all this looks great, Meta has been hit hard in 2022, losing over 40% of its value since the start of the year due to many adverse factors which weighed down on the metaverse-focused chief, impeding its progress of capitalizing on the technology of the next generation.
Losing Ground
Meta was on the course of an upward-trending ride, but all eyes were on the company's quarterly results. In the 2021 fourth fiscal quarter, the firm's earnings per share (EPS) were $3.67 against the $3.84 predicted by analysts, and its revenue of $33.67 billion was also under forecasts by $170 million. But what was truly a catastrophe was that Facebook's global active users declined for the first time in history, dropping by almost half a million users in the quarter. As a result, the market capitalization of Meta has been slashed by over $250 billion.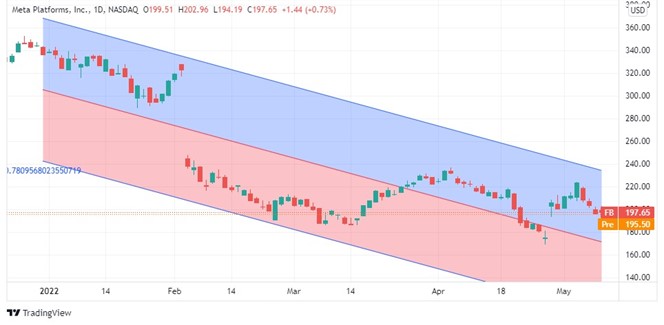 As seen from the chart provided by TradingView, this crushed the stock (NASDAQ: FB) by 26% on February 2nd, marking its largest one-day drop in the company's 18-year-long run. This wasn't the end of it. The Meta stock witnessed a further 16% drop in its price tag in the following three months to currently price at around $197 per share. To justify the drop, the company pointed fingers at Apple's new privacy changes, notably the newly-introduced update on its mobile operating system which gives iPhone users the choice of whether to allow applications like Facebook to track & monitor their online activity.
Meta also blamed the escalating competitive pressure from rivals, like Tik Tok, which has grown impressively in a miniscule amount of time to now have over 1 billion users worldwide. Lastly, the tech tycoon noted that Meta's ability in tracking user data and in-turn, generating substantial profit margins, has been significantly limited due to increasing scrutiny & watch from lawmakers. Other tech giants, including Google & Apple, also faced pressure from laws & regulation which aim to combat anti-competitive activity and privacy-breaching initiatives.
Bouncing Back?
Amid the global market decline for stocks, and even renowned safe-haven assets like gold, the Japanese yen and the Swiss franc, the majority of stocks have struggled to trade higher in 2022, and Meta is no exception. This does not, however, indicate that the firm is not excelling, and this is evident in its latest quarterly results.
Meta's Q1 2022 results are as follows:
· Earnings per share: $2.72 vs. $2.56 expected
· Revenue: $27.91 billion vs. $28.2 billion expected
· Daily active users: 1.96 billion vs. 1.95 billion expected
· Average revenue per user: $9.54 vs. $9.50 expected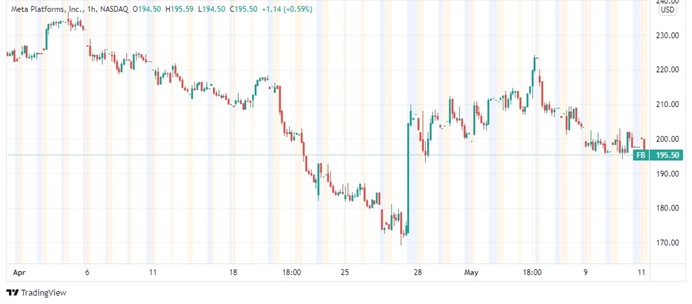 The technology pioneer has beat Wall Street expectations in every metric other than monthly active users & revenue, surging its stock by 18% on Wednesday the 28th of April. Investors appear to have regained their confidence in the Meta stock, with the average analyst price target of $312; a 58% upside from today's price.
The company also has exciting future endeavors. Meta's Instagram will increase the maximum duration of Reels videos to 90 seconds, which is currently at 60 seconds and previously at 15. Meta's future plans not only involve doubling up on the metaverse, but also on providing internet to every human on earth by 2026.
"Our real mission wasn't to connect one-seventh of the world, it was to connect the whole world", as said by the media magnate, entrepreneur and philanthropist, Mark Zuckerberg. To live up to his words, the company is intensifying its investments towards data centers, servers and offices, aiming to spend up to $34 billion in 2022 with the goal of preparing Meta for the future technological boom.
For more information, see the whole study.
Trading is risky and your entire investment may be at risk. TC's available at https://gulfbrokers.com/
Writen by Syam KP, financial analyst of Gulfbrokers