About Meta Platforms
Meta, previously known as Facebook from 2004 to 2021, is the parent company overseeing the prominent social platform Facebook, the widely used photo and video-sharing network Instagram, and the instant messaging services WhatsApp and Messenger. The company's new name, Meta, underscores its focus on the metaverse, an environment where users engage in interactions within virtual reality settings. The rebranding to Meta occurred in October 2021 as an attempt to restore the company's reputation after facing significant controversies related to user privacy breaches and the spread of misinformation. The name change was also aimed to advance Meta's initiatives in the metaverse.
Established in 2004 by Harvard University scholars Mark Zuckerberg, Eduardo Saverin, Dustin Moskovitz, and Chris Hughes, Facebook emerged as the leading global social network, boasting approximately three billion users by 2021, with nearly half of them engaging daily. In 2012, Facebook gained ownership of Instagram, a well-liked platform for sharing photos and videos, and in 2014, it acquired Oculus Virtual Reality. A significant addition came in 2015 with the acquisition of WhatsApp, a prominent instant messaging service. [1]
Meta will launch chatbots with personalities
Meta Platforms is gearing up to introduce innovative AI-driven chatbots with distinct personalities, aiming to enhance user interaction. Meta is in the process of developing prototypes capable of engaging in human-like conversations. Some iterations of these AI chatbots, referred to internally as personas, have the ability to adopt various characters. Meta is also exploring the concept of a chatbot emulating the speech of Abraham Lincoln or offering travel advice in a surfer's style. Expected to debut potentially as early as September, these chatbots are being designed to introduce a novel search feature and provide recommendations. This development occurs amidst intense competition for user engagement across its platforms and Meta's pursuit, in line with other Silicon Valley players, to develop and monetize AI technology. [2]
Google's MusicLM is being rivalled
Meta has unveiled a suite of innovative generative artificial intelligence (AI) models known as AudioCraft, designed for crafting music from diverse inputs, as detailed in a recent blog post. The suite encompasses tools like MusicGen and AudioGen, which utilize text-based inputs to generate novel audio content, alongside EnCodec, which enhances music generation quality with fewer imperfections.
Meta stated that its MusicGen model was trained using its owned or specifically licensed music. This development comes amidst considerable controversy surrounding the use of copyrighted material in training AI, including a copyright infringement lawsuit against Meta. The MusicGen and AudioGen models are now accessible in various sizes to the research community and developers. Meta envisions further refinement of these models to cater to both music industry professionals and enthusiasts as it introduces more advanced controls. [3]
Reels revenue is close to the one of TikTok
Meta Platforms, in response to the popular short-form video platform TikTok, faced scepticism when it introduced Reels in 2020, seen yet another instance of Meta emulating its competitors. However, recent statistics disclosed by Meta illustrate a swift surge in the popularity of Reels videos, among both users and advertisers, rapidly closing the gap with the ByteDance-owned TikTok app, which has captivated younger users and transformed the social media arena.
According to Meta, the remarkable growth of Reels, accessible on Facebook and Instagram, is partly attributed to the company's enhanced recommendation algorithms, a strong point of its Chinese-owned counterpart. Justin Osofsky, Meta's Head of Online Sales, Operations, and Partnerships highlighted that the improved discovery engines enable the display of Reels aligned with users' interests. The count of daily Reels video views across Facebook and Instagram has now surpassed 200 billion, up from 140 billion in the past autumn. [4]
Financials and stock development
In 2022, Meta Platforms managed to generate 116,61 billion USD revenue, which is an unbelievable number, however, it was still 1,12% lower than the year before. As for net income, the number is 23,20 billion USD and a year-over-year fall of 41%. So far, in 2023, reported revenue is 60 billion USD, which means that Meta is on good track to again provide the number higher than 100 billion USD by the end of the year. [5] As for their stocks, they have been nicely growing through their time on stock exchange. There was a big correction last year, but company is back on their feet now, and stocks are trading at 310 USD per piece. All-time high was in 2021, when the price reached around 380 USD.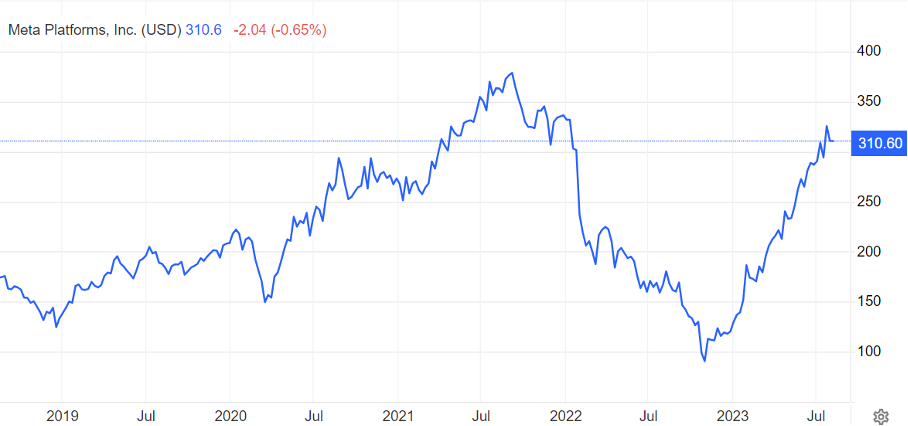 Movement of Meta Platforms stocks in the last five years. (Source: Trading Economics) *
Conclusion
Meta Platforms is the biggest player in social media sector. During their time they have proved us, that they have strong plans and strong discipline. Otherwise, they would not be where they are. One important factor to remember in all of this is, that Meta is working on metaverse, which, when it comes realised, will be a very big boom. We can already see AI being implemented, so we believe that they are on a good way. However, only time will tell.
[1] https://www.britannica.com/topic/Meta-Platforms
[2] https://www.investing.com/news/stock-market-news/meta-preparing-to-launch-chatbots-with-personas--ft-3140144
[3] https://cointelegraph.com/news/meta-launches-suite-of-generative-ai-music-tools-rivaling-google-s-musiclm
[4] https://www.reuters.com/technology/metas-reels-revenue-narrows-tiktok-boosted-by-ai-2023-07-27/