About Kuaishou
Kuaishou Technology is an investment holding company, which provides online marketing services, live streaming services, and other services. The company was founded by Hua Su and Cheng Yixiao on February 11, 2014 and is headquartered in Beijing, China.
The company holds that in the second quarter of 2023, it maintained growth trajectory and hit another major profitability milestone, achieving the first-ever group-level net profit in a quarter since its listing on the Stock Exchange in 2021. In the company's own words, "this accomplishment strongly validates the effectiveness of our strategy of simultaneously expanding our user base and content ecosystem, deepening our monetization capabilities, and optimizing operating efficiency."
Kuaishou App: seeing solid active user growth
In the second quarter of 2023, average Daily Active Users (DAUs) and Monthly Active Users (MAUs) on the Kuaishou App reached 376.0 million and 673.3 million, representing a year-over-year increase of 8.3% and 14.8%, respectively. Additionally, users of the company's proprietary app spent more time logged in with the average daily time spent per DAU reaching 117.2 minutes in the second quarter of 2023. Over longer term, Kuaishou App also saw the total user time spent grow year-over-year, mainly driven by rapid DAU growth.
Advertising revenue up 30% y-o-y
As the advertising market gradually recovered in the first half of 2023, the company focuses on further increasing the monetization efficiency of its online marketing services. The company plans to do this by enhancing their product capabilities and infrastructure and unlocking the value of high-quality traffic. In the second quarter of 2023, the number of active advertisers on the company's platform almost doubled, compared with the same period of last year. Additionally, the revenue from online marketing services reached RMB14.3 billion, growing by 30.4% year-over-year, and accounted for 51.7% of the total revenue.
E-commerce: 39% increase in Gross Merchandise Value
According to the company's Second Quarter and Interim Financial Results, it has seen a nearly 39% year-over-year increase in Gross Merchandise Value (GMV). In terms of infrastructure that supports E-commerce as one of its main revenue streams, the focus has been on applying the use of scoring systems for merchandise, merchants' services and Key Opinion Leaders' (KOLs) reputations. In addition to that, the company's E-commerce platform has undergone optimization through the implementation of the critical indicators for identifying high-quality merchandise, services and content with the aim to funnel the traffic on the company's platform to premium merchants, thereby enhancing supply quality.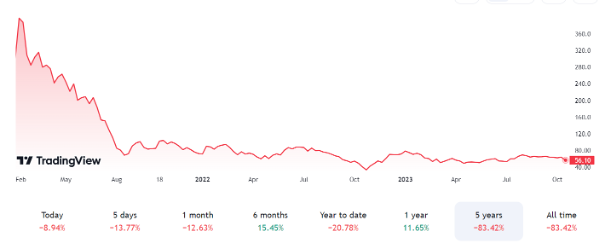 Stock price development of Kuaishou Technology*
Conclusion:
The company has seen a successful second quarter of 2023, maintaining growth trajectory and achieving the first-ever group-level net profit in a quarter since its listing on the Stock Exchange in 2021. All the company's major revenue streams have seen solid gains: Kuaishou App recorded growth in active users, Advertising has seen revenue increase by 30% y-o-y, while E-commerce clocked a 39% rise in Gross Merchandise Value.
* Past performance is no guarantee of future results.
Forward-looking statements are based on assumptions and current expectations, which may be inaccurate, or based on the current economic environment which is subject to change. Such statements are not guaranteeing of future performance. They involve risks and other uncertainties which are difficult to predict. Results could differ materially from those expressed or implied in any forward-looking statements.
Written by Syam KP - GulfBrokers Chief Analytic