Founded in 2011 as "GIF Kuaishou", the original vision was to enable the creation & sharing of animated images known as GIFs, which were the old-school form of short videos. The company then became China's first-mover in the short video industry, allowing users to create, view and upload short videos via mobile. It launched this service in 2013, with its notable success opening many doors for Kuaishou. It's video-sharing app has not only flourished in China, but also the rest of the world. The app is among the most downloaded applications on Google Play & the Apple App Store in eight countries, including Indonesia, Pakistan and Taiwan.
Over the years, the Chinese tycoon endeavored in live streaming, commenced in e-commerce, tapped into digital marketing and even explored the gaming world. Today, Kuaishou Technology is the world's 419th most valuable company with a market capitalization exceeding $40 billion.
The Business Model
Kuaishou makes money in a number of ways. Historically, its main moneymaker was the live-streaming business segment, which generates revenue off of users purchasing virtual goods which they gift to their favorite streamers.
The company also generates revenue from advertising, online marketing, e-commerce and gaming. As advertisers flock to Kuaishou to present their ads, Kuaishou benefits by running such ads on its popular platform. The company also enjoys a stake of in-game purchases and e-commerce transactions.
The $5 Billion IPO
Let's talk stocks. Kuaishou's stock market debut on February 5th of last year wasn't humble; it was ferocious. On its launch in Hong Kong, its shares have ripped through the skies, nearly tripling in value. Kuaishou has raised a commendable $5.32 billion from the initial public offering, representing yet another triumph for the Hong Kong stock exchange.
After the IPO, things went downhill. Investors were swayed away from Chinese tech companies amid increasing regulatory scrutiny from lawmakers and watchdogs, which restricted the capabilities and freedom of technology firms. Alibaba, JD.com, Tencent and most Chinese giants have all become victims of a vicious 2021.
Recent Performance
In the latest fiscal quarter, Kuaishou's financial results were nothing short of excellent:
· Revenue: $3.12 million – up 24% year-over-year
· Gross profit: $1.30 million – up 26% year-over-year
· Average Daily Active Users (DAUs): 345.5 million – up 17% year-over-year
· Average daily time spent per DAU: 128.1 minutes – up 29% year-over-year
For the period ended March 31st of 2022, online marketing services generated RMB 11.4 billion ($1.68 billion), which accounted for 54% of total revenue. Live streaming represented 37% of total revenue, and the remaining 9% stake was generated from other services.
Such magnificent quarterly figures have been reflected on user traffic, which has increased exponentially over the past year. Users are spending more time on the platform, and the number of active users are growing by the minute.
Technical View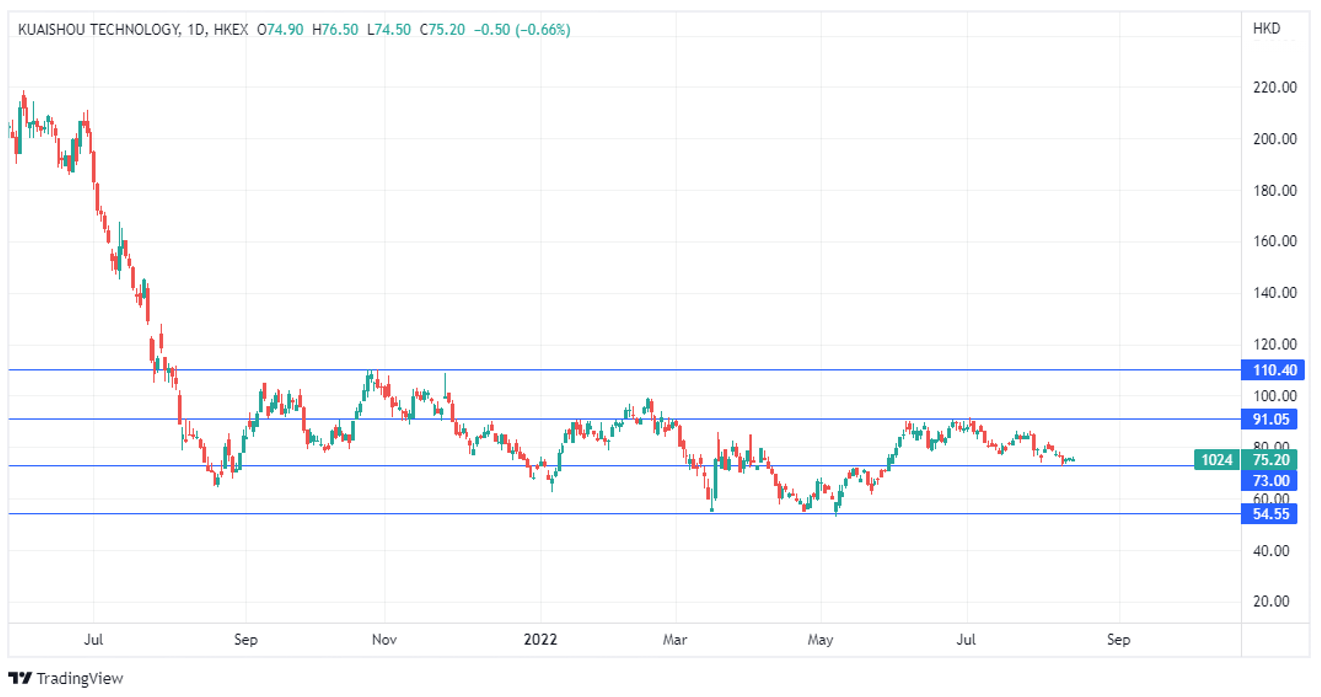 As seen in the TradingView chart, the Kuaishou stock (HKG: 1024) has plunged in 2021 after its market debut, and isn't looking too attractive when putting on a long-term lens. The war on Ukraine exacerbated declines, with increasing COVID-19 lockdowns & restrictions in the Asian nation further-magnified investor aversion. However, Kuaishou remained robust and resisted the headwinds of 2022.
It's safe to say that the short-term trajectory is looking optimistic. Currently trading in the middle part of its yearly range with a price tag of HKD 75.20, the stock rests between the two supports level of HKD 73 and HKD 54, and the two resistance levels by HKD 91 and HKD 110.
Analysts of various renowned financial institutions expect a consensus price target of HKD 109 for Kuaishou stock; a 45% upside from today's price tag. If the prosperous Kuaishou carries on delivering exceptional results, it could surpass the fan-favorite Douyin in popularity and total users. The road is long, but the path has been set.
Analysis written by Syam KP, analyst of Gulfbrokers
For more information, see the whole study.
Trading is risky and your entire investment may be at risk. TC's available at https://gulfbrokers.com/