As we know some currencies are considered safe havens compared to others including Swiss Franc and Japanese Yen. But in this month the King dollar is the real safe currency. The US dollar has become a safe haven investment as investors look for resilient investments amid the global coronavirus outbreak.
The dollar rose to its highest level in more than three years on Thursday after the liquidity injection operations undertaken by central banks around the world. The greenback is helped by continuing weakness in the Pound, Euro, Cad and other Asian currencies.
The DXY currently trading at 102.20 if the bullish momentum continues the next target will be Jan - 2017 high. January 2017 was the last time we saw the U.S. dollar have this kind of strength.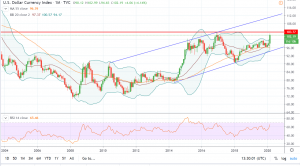 As per the recent update, the Italian death toll has now overtaken China. In New York, coronavirus cases rose to 4,152 from 2,383, while in the UK, coronavirus cases jumped to 3268 vs. 2689 yesterday. So According to Gulf brokers, if the death toll rate continues to pick up at a steady rate, the markets will be still in risk mode and equities may continue to drop then the U.S. dollar will gain further.  But a stronger dollar can be bad news for U.S. exporters, making their goods more expensive in foreign markets.
Trading is risky and your entire investment may be at risk. Please ensure that you fully understand the risks involved.