It wasn't just this week about bad information from german economy. It is getting worse and worse despite of more and more stimulus from ECB (QE and rate cut). If this could work or not we will see another quartal. But now, the numbers are bad, but no-one cares because stimulus are on the way...
According to Zerohedge, weakness in euro-area manufacturing hit a climax this morning as German private sector activity plunged to a seven-year low. The Germany Manufacturing PMI slumped in September, dropping to 41.4, down from 44.7 in August, printing below the lowest sellside estimate (consensus of 44.4); worse, the German manufacturing recession is now spreading to the services sector, where the formerly resilient services PMI also slumped from 54.8 to 52.5, also missing the lowest analyst estimate, and collectively, resulting in the first composite PMI print below 50, or 49.1 to be precise, since April 2013. The rate of decline was one of the sharpest in seven years.
Here is the chart: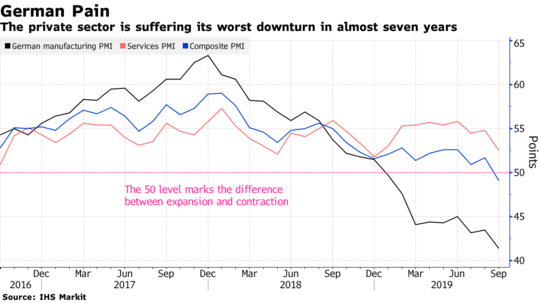 Source: IHS Markit via Zerohedge


Flash Germany PMI Composite Output Index at 49.1 (Aug: 51.7). 


Flash Germany Services PMI Activity Index at 52.5 (Aug: 54.8).


Flash Germany Manufacturing PMI at 41.4 (Aug: 43.5).


Flash Germany Manufacturing Output Index(4) at 42.7 (Aug: 45.8).


The Financial sector (in STOXX EUROPE 600) was the most hit on yesterday (-1.5 percent), Commerz Bank -6.5 percent, Deutsche Bank -3 percent. DAX after report falls more 1.3 percent in 2 hours, but for next trading hours the declined was reduced and closed near 12 360€.