Global stocks opened this week with a positive note after several countries planned to ease of coronavirus-led lockdowns. This week is one of the busiest weeks; the tech giants report their latest quarterly earnings. As we know this was one of the most interesting first quarters so we have to look at these results a little differently in the context of the COVID-19 outbreaks.


FAANG earnings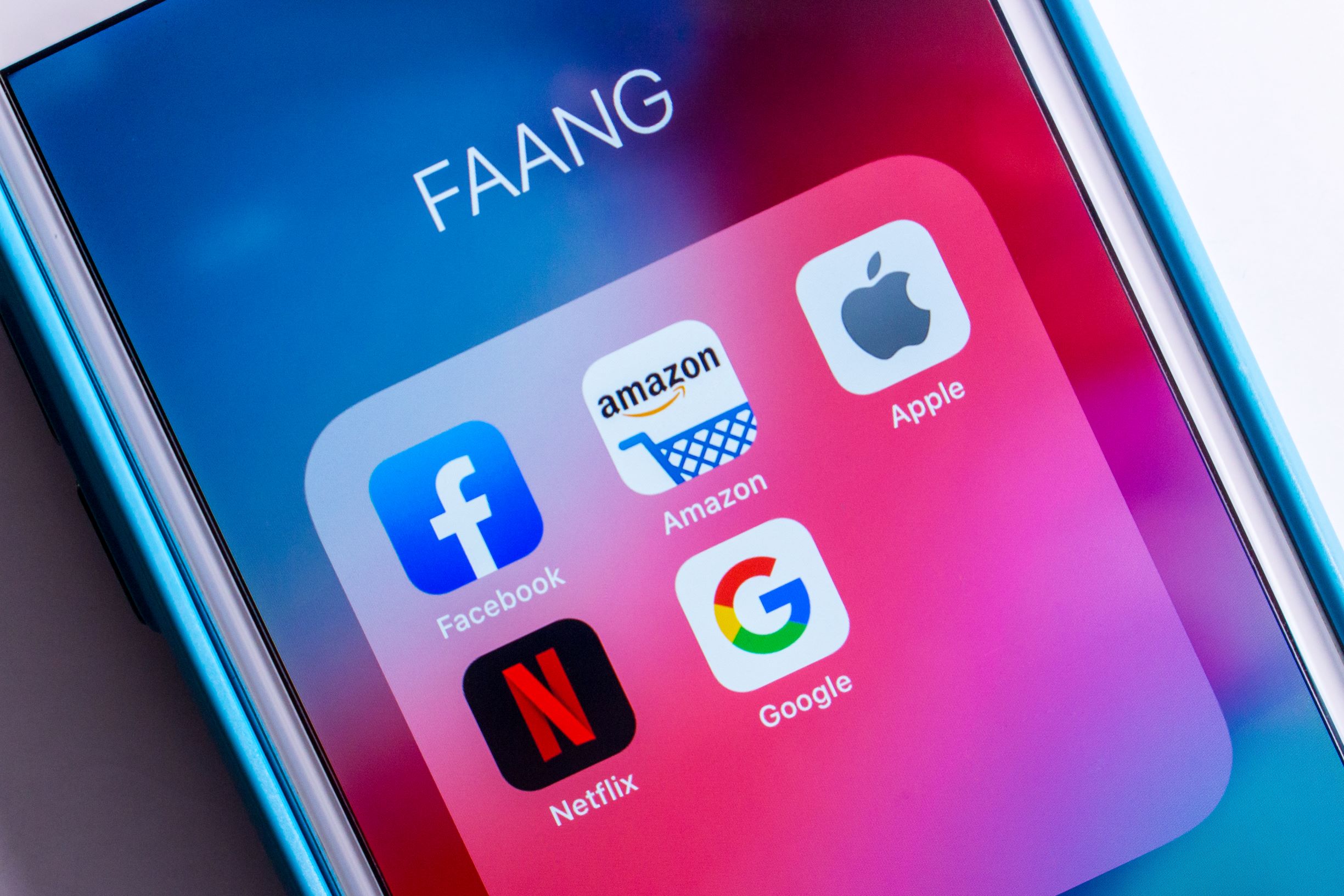 Other than $NFLX, the FAANG stocks all report Q1 results this week starts from Tuesday, April- 28. Netflix already surprised the markets; the company announced that it had added 15.8 million net new subscribers. The jump in subscribers is largely attributed to the stay-at-home orders associated with the COVID-19 pandemic. Considering all other FAANG stocks like Facebook, Apple and Google, Amazon will be closely monitored as the e-commerce giant has seen its share price rise as more people turn to online shopping in the wake of the pandemic.
Facebook Inc. (NASDAQ: FB)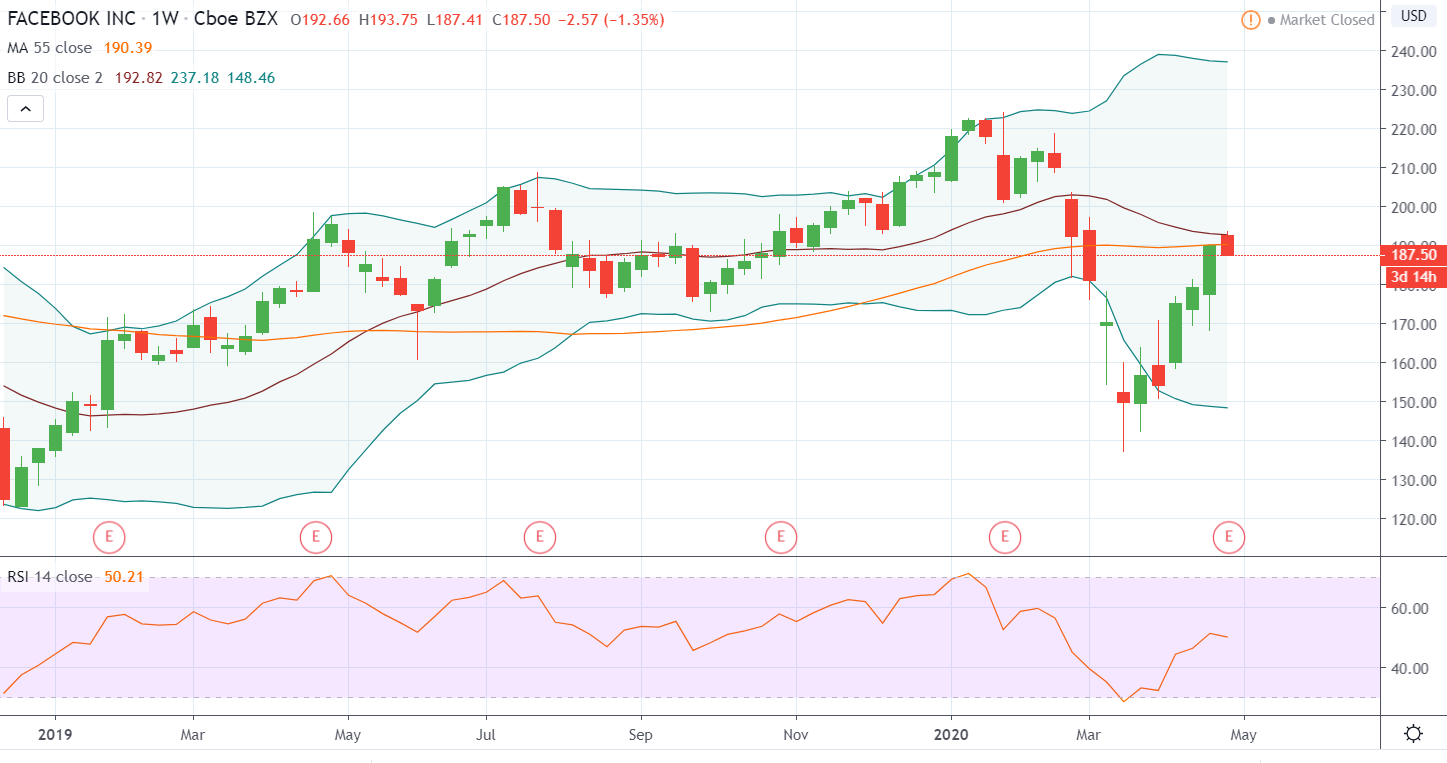 Facebook will announce its first-quarter 2020 financial results after market close on Wednesday, April 29, 2020. The company is expected to post quarterly earnings of $1.78 per share and revenues are expected to be $17.42 billion, up 15.6% from the year-ago quarter. The important areas of focus are advertising revenue growth and user growth and engagement, as the two areas have been impacted the most by COVID-19. The company already announced they expected deceleration in Q1 year-over-year revenue growth to around 20%, a drop of 24%.



Apple Inc. (NASDAQ: AAPL)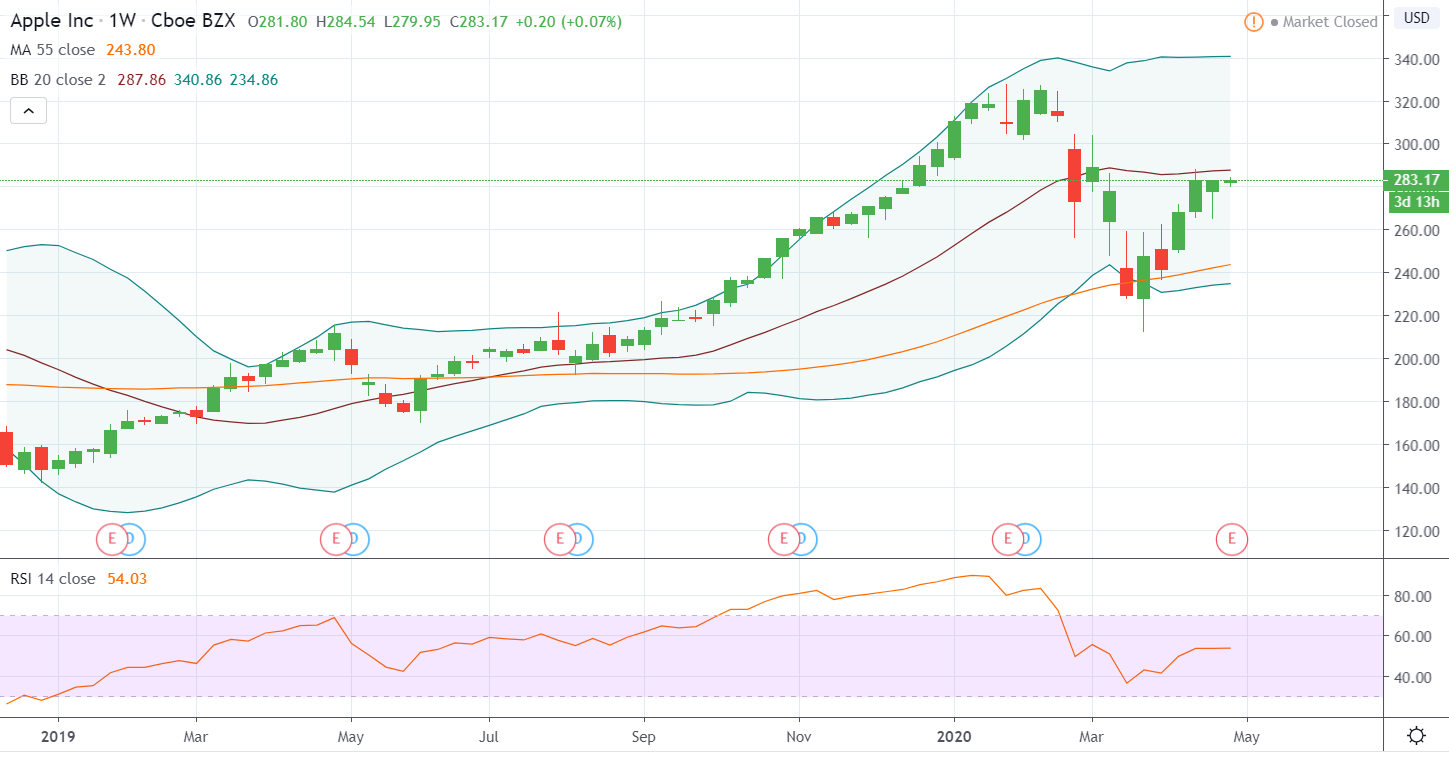 Apple will release its second-quarter fiscal 2020 earnings on Thursday, April 30, 2020, after market close. The coronavirus pandemic forced Apple to shut down its own as well as partners' stores, which has certainly impacted revenues. But Apple has already taken a step to increase device sales amid a potential downturn, releasing a $399 iPhone SE that easily becomes the current cheapest option. Wall Street expects Apple earnings will fall 7% to $2.28 a share with revenue down 6% to $54.79 billion.



Amazon.com, Inc.( NASDAQ: AMZN)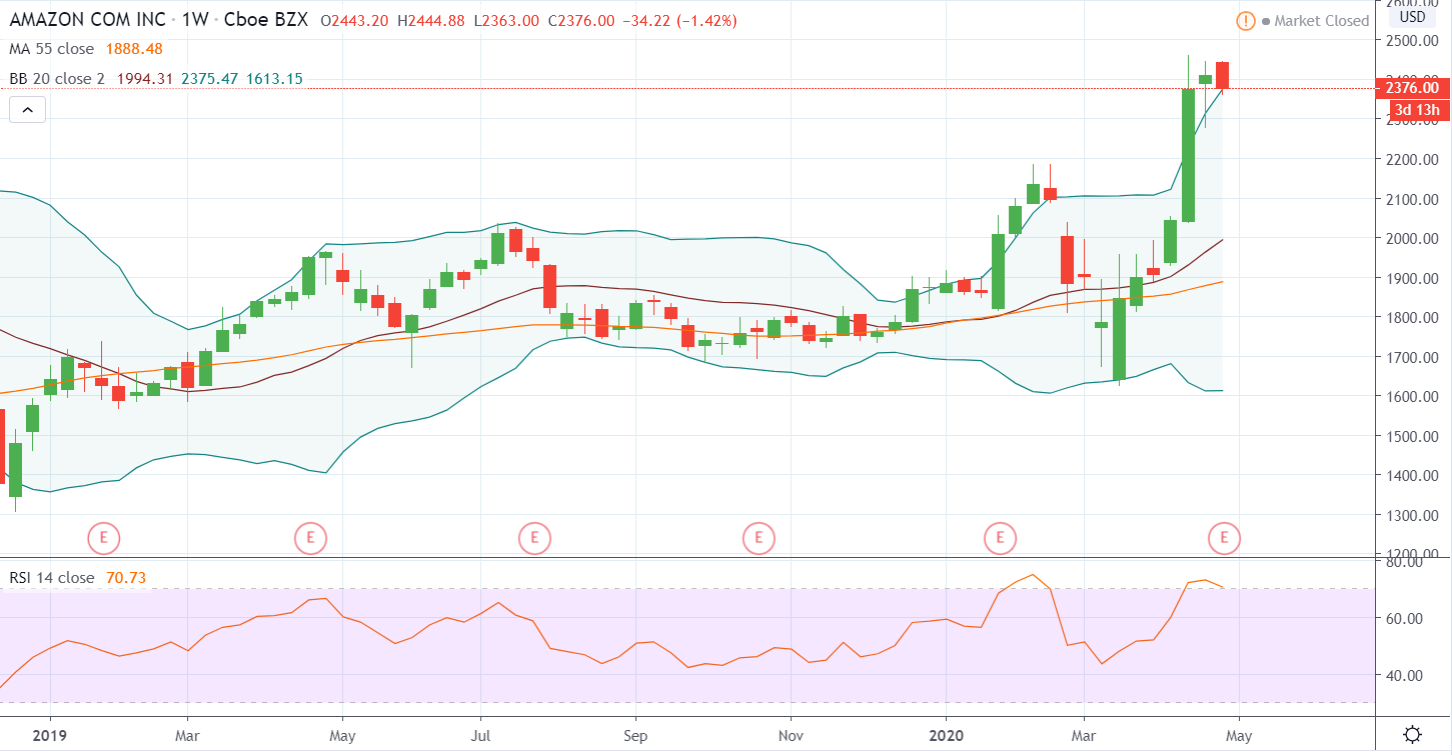 Amazon.com is expected to report its first-quarter results before regular trading begins on Thursday, April 30. On April 22nd the company reported that its subsidiary, Amazon Web Services (AWS), launched in South Africa and plans to open more AWS locations in Indonesia, Italy, Japan and Spain. Recently the Amazon has had their first employee to die of COVID with more than 20 cases throughout their factories in the US. Wall Street expects Amazon to earn $6.39 per share on revenue of $72.91 billion.



Alphabet - Google (NASDAQ: GOOGL)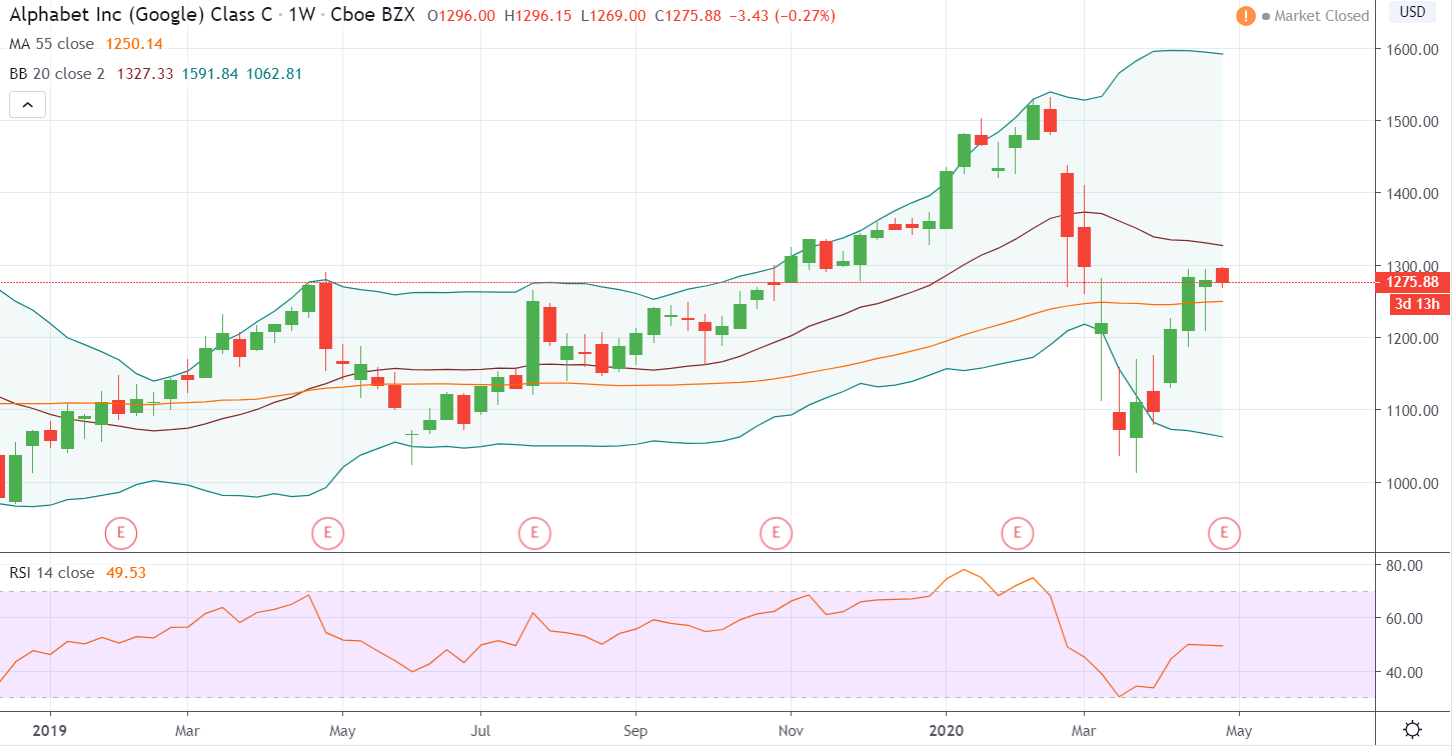 Alphabet will be the second of the FAANG stocks to release its earnings reports for the fiscal quarter ending March 2020. The company reports Q1 earnings on Tuesday- April 28 after the US close. Wall Street expects Alphabet to earn $10.98 per share on revenue of $40.75 billion. Recently, Google and Apple have partnered to develop a COVID 19 tracking software, this will be able to trace whether or not you have been in contact with an infected person. Last week the Google revealed that the company is cutting up to 50% of its marketing budget for the second half of the year.


There are few other major companies also reporting quarterly results this week.
Starbucks (NASDAQ: SBUX) – Tuesday, April 28 (The company expects adjusted earnings of 34 cents per share on $5.90 billion in revenue during its fiscal second-quarter). On March 28, President Trump signed a $2 trillion stimulus package to boost the US economy. The company's stock price recently rose due to optimism about the stimulus package and a decline in the infection rate.


Tesla Inc. (NASDAQ: TSLA) - Wednesday, April 29 (Wall Street expects a net loss of $0.23 per share and $5.99 billion in revenue.)


Microsoft Corporation (NASDAQ: MSFT) - Wednesday, April 29(Wall Street expects fiscal Q3 EPS to rise 12% to $1.28 a share, on sales of $33.93 billion, up 11 %.)


Boeing Co (NYSE: BA) - Wednesday, April 29 (Wall Street expects EPS $-2.01 and Revenue $17.26 billion.) The company expected to deliver a decline in earnings due to unpredicted Covid-19 pandemic situation. Late Friday, Boeing walked away from a $4.2 billion plan to combine its jetliner business with Brazil's Embraer SA (NYSE: ERJ). As well, Boeing is expected to cut Dreamliner output by about half since the effort burned a record amount of cash in the first quarter.


Twitter Inc. (NYSE: TWTR) - Thursday, April 30(Wall Street expects $0.10 in EPS on revenue of $776 million.)