Moving ahead to the new week investors and traders will likely monitor PMI surveys, geopolitical headlines, ECB, RBA, BOC rates, US non-farm payrolls. A series of manufacturing surveys released today,
Eurozone Manufacturing PMI ➜ Actual 39.4(above April's all-time low of 33.4) vs. 39.5 expected
GBP Manufacturing PMI ➜ Actual 40.7 vs. 40.7 expected
Germany Manufacturing PMI ➜ Actual 36.6 vs. 36.8 expected
Caixin China Manufacturing PMI ➜ Actual 50.7 vs. 49.6 expected
India Manufacturing PMI ➜ Actual 30.8(record low of 27.4 in the previous month) vs. 38 expected
EQUITIES
European stocks traded higher on Monday, amid optimism over a global economic recovery as countries continue to gradually reopen their economies. Philippine shares hit a seven-week high, the stocks supported after President Rodrigo Duterte was offering a cash reward to entice city-dwellers to move out of the capital of Manila which in recent decades has become one of the most heavily populated areas in the country.
OIL
Oil price unchanged on Monday ahead of the upcoming OPEC meeting where leading oil producers could decide on whether to extend production cuts or not.
CURRENCIES
EUR/USD trading below two months high on Monday as the inventors awaiting for ECB meeting on Thursday where it is widely expected to raise its asset-buying by around 500 billion euros to 1.25 trillion.
GOLD
Gold prices jumped to their highest in more than a week on Monday, underpinned by tensions between the US and China over the latter's national security legislation on Hong Kong.
Economic Outlook
On Friday Donald Trump said that the United States was terminating its relationship with the World Health Organization (WHO) due to its mishandling of the coronavirus pandemic, claiming China has total control of the agency. He also began the process of ending Hong Kong's special status but did not withdraw from the US-China phase-one trade deal.
Moving ahead today, the important events to watch
US manufacturing PMI – 13.45 GMT
US ISM manufacturing PMI – 14.00 GMT
Coronavirus Update:
Coronavirus cases have crossed 6.2 million marks worldwide, taking positive patients toll to 6,262,422 with 3,73,848 deaths while 2,846,477 have recovered. The US continues to remain the worst-hit country with positive cases toll at 1,837,170 including 1, 06,195 deaths. Following the US, is Brazil with the second-most maximum number of coronavirus cases 5,14,849 including 29,314 deaths and Russia with 4,05,843 cases including 4,693 deaths.
Technical Outlook
AUD/USD: During the European session the Australian dollar traded 4 - month high of 0.6770.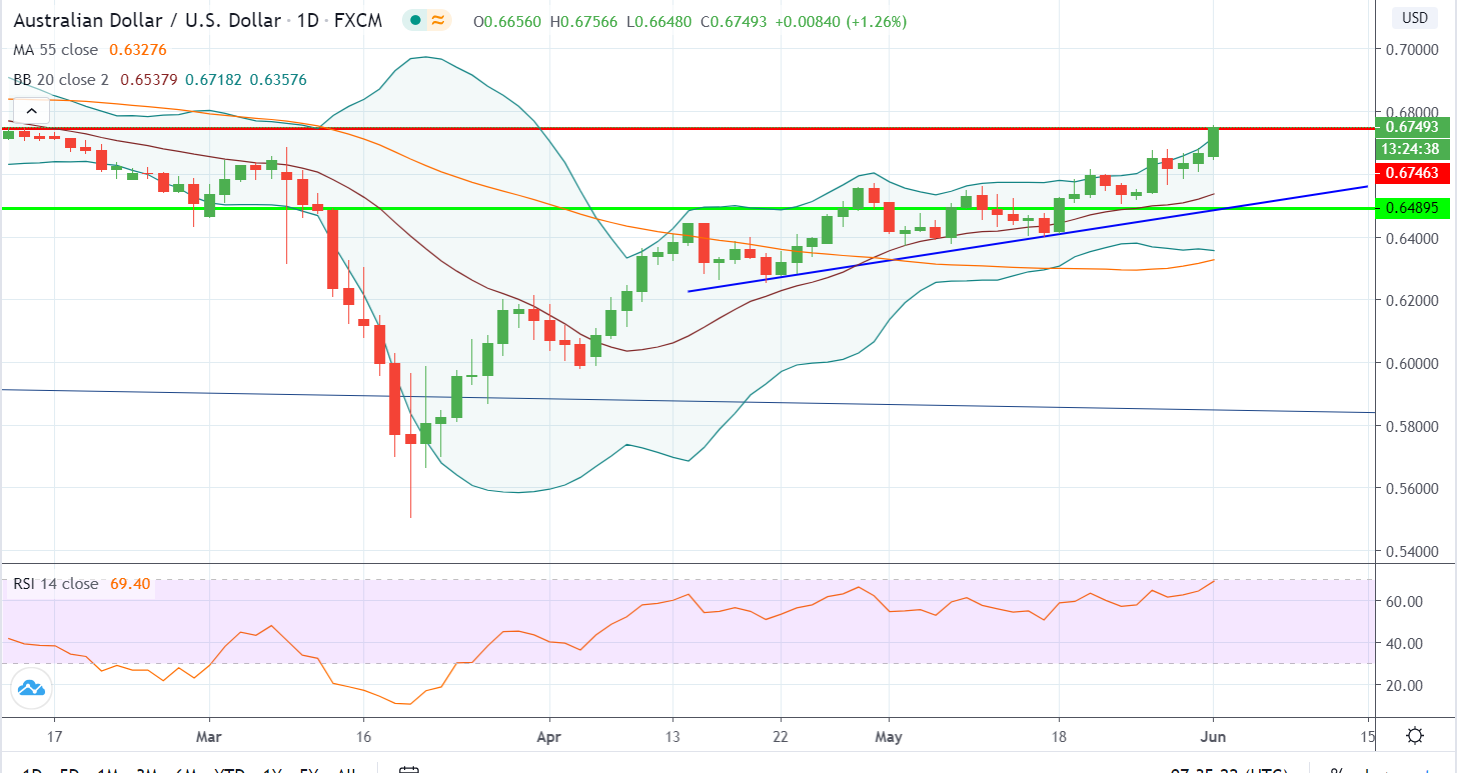 The important levels to watch for today: Support- 0.6710 and 0.6670 Resistance- 0.6780 and 0.6810.
EUR/USD: The pair fell slightly to 1.1110 after it climbed above 1.1150 during the European session.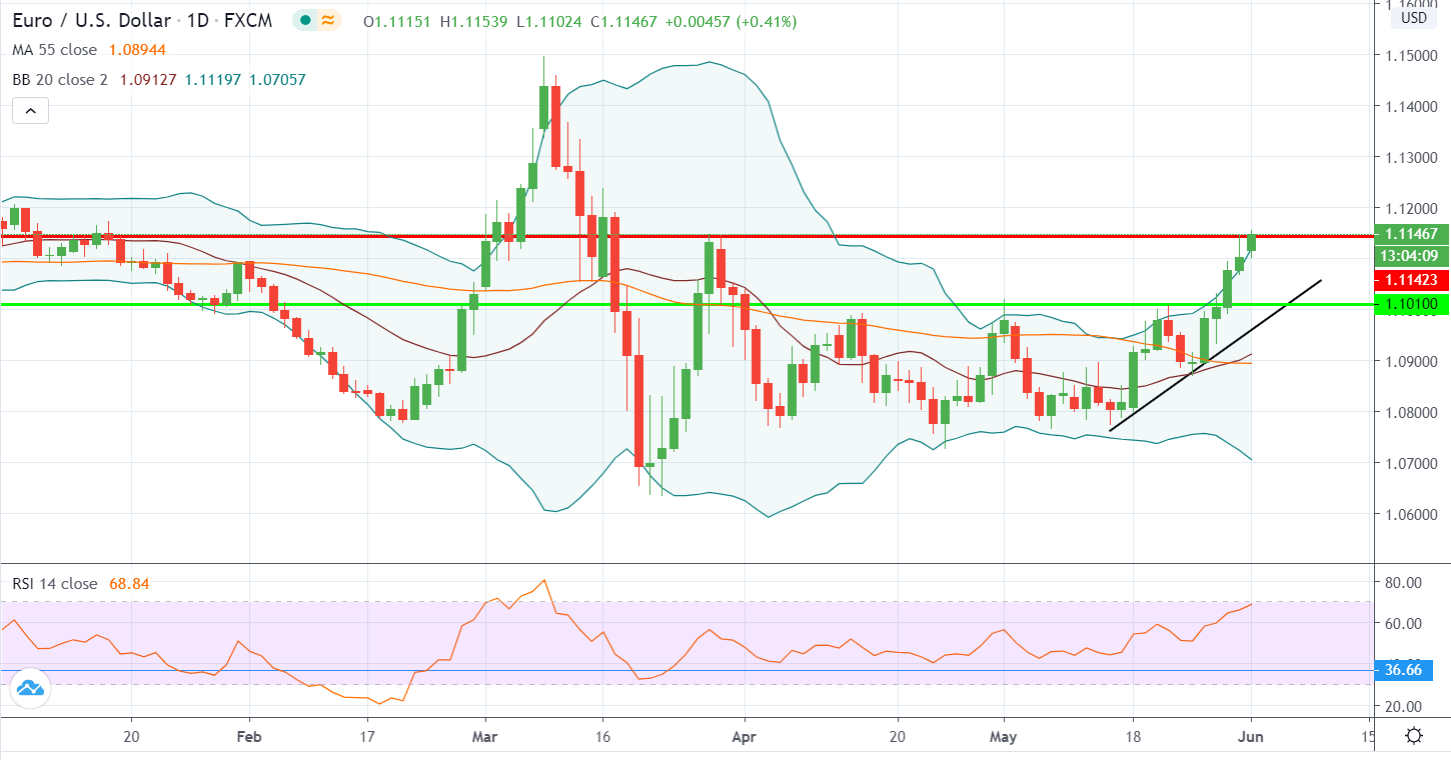 The important levels to watch for today: Support- 1.1090 and 1.1050 Resistance- 1.1160 and 1.1200.
Quote of the day: Without passion, you don't have energy. Without energy, you have nothing- Warren Buffet.